Fill Out The Form to Begin Watching!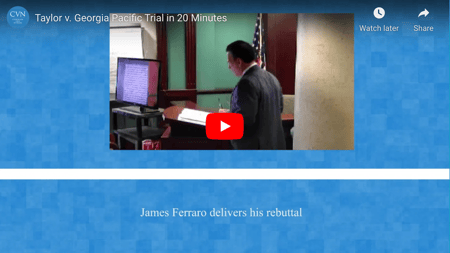 In 2015 a Florida state court jury slammed Koch Industries Inc.-owned Georgia-Pacific LLC with a $17 million verdict in an asbestos lawsuit, finding that a construction worker's cancer was caused by exposure to the deadly mineral in the company's joint compound.
Now you can watch the most important moments from the case in just twenty minutes thanks to our partner ChartSquad.
Plaintiff Roy Taylor, whose doctor testified could die within a year, was awarded $13 million and his wife Suzanne $4 million while also clearing Dow Chemical Co. subsidiary and co-defendant Union Carbide Corp. of all liability.
Taylor claimed he developed mesothelioma, a rare form of cancer affecting the lungs that has been linked to asbestos inhalation, from working as a painting supervisor for Raytheon in Saudi Arabia in the late 1970's. His attorney, James Ferraro of the Ferraro Law Firm, argued that Georgia-Pacific's joint compound, which contained Union Carbide's asbestos, was applied to walls and then sanded down, and that Taylor often ended his workday covered in white dust.
Courtroom View Network recorded and webcast the full trial gavel-to-gavel. Enjoy this curated 20-minute video of the trial, thanks to our partner ChartSquad!


FILL OUT THE FORM AND BEGIN WATCHING NOW
More about ChartSquad:
ChartSquad is a revolutionary digital solution that has leveraged technology and automation to simplify access to medical records for plaintiffs nationwide. In about two minutes, you can request records from any US based treatment provider and we do the rest! There are no membership fees and no contracts. It's a user-friendly on demand solution that will eliminate up to 90% of your on-desk time, lower your cost exposure, and help you close cases faster.
Learn more about ChartSquad here.