Fill Out The Form to Begin Watching!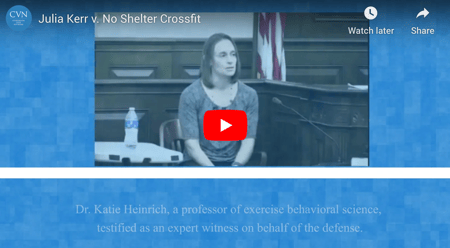 A Missouri state court jury cleared CrossFit Inc. of all liability in a lawsuit filed by a personal injury attorney who claimed that a weightlifting coach's inadequate training caused her to suffer a herniated disc.
The trial was named one of CVN's Top 10 Most Impressive Defense Verdicts of 2018, and now you can watch its most critical moments FREE with our Trial in 20 Minutes episode on the blockbuster case.
Plaintiff Julia Kerr, a personal injury attorney, sought $3 million in damages after performing a "deadlift" exercise in a gym offering the CrossFit training regimen, a popular fitness program that involves motivational coaches encouraging clients during their workout. She claims her coach instructed her to perform the deadlift too quickly and in an unsafe manner, and that the incident was the first time she had ever attempted a deadlift.
CrossFit denied any responsibility for Kerr's herniated disc, arguing that she didn't seek medical attention until five weeks after the incident, and that when she did tell her doctor about back pain she made no mention of her time at the gym. The company's lawyers told jurors that Kerr had prior back problems she did not disclose to her coach, and that if she had she would never have been allowed to perform the deadlift.
CrossFit's regimen is used in over 10,000 "affiliate" gyms worldwide, but there have been relatively few trials seeking to hold CrossFit as a corporate entity responsible for the actions of staff in those independently owned and operated locations. Another Missouri jury delivered the first verdict against CrossFit in such a case in 2016, awarding $400,000 at a similar deadlift-related trial.
You can watch the most important moments from the trial, including key openings, expert testimony, and closing arguments, as part of our Trial in 20 Minutes feature, thanks to our partner ChartSquad!


FILL OUT THE FORM AND BEGIN WATCHING NOW
More about ChartSquad:
ChartSquad is a revolutionary digital solution that has leveraged technology and automation to simplify access to medical records for plaintiffs nationwide. In about two minutes, you can request records from any US based treatment provider and we do the rest! There are no membership fees and no contracts. It's a user-friendly on demand solution that will eliminate up to 90% of your on-desk time, lower your cost exposure, and help you close cases faster.
Learn more about ChartSquad here.