Fill Out The Form to Begin Watching!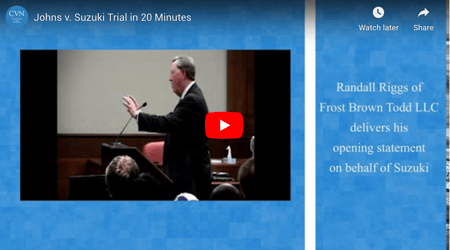 One of our Top 10 Must-Watch Automotive Product Liability Trials, Johns v. Suzuki saw a $12.5M verdict against the car companies due to a motorcycle crash that shattered a man's spine.
Georgia jurors deliberated for less than five hours hours before concluding defective brakes on Adrian Johns' 2006 Suzuki GSX R-1000 motorcycle caused the wreck that broke Johns' back, left him with mobility problems, and rendered him unable to return to his postal career.
Suzuki ultimately recalled more than 200,000 motorcycles in October 2013, two months after Johns' wreck. The defect at the center of the recall affects GSX motorcycles made between 2004 and 2013.
Here, CVN breaks down significant parts of the precedent-setting trial into a single, curated 20-minute video clip.
Thanks to our partner, ChartSquad, you can access this curated clip for FREE - usually only available to CVN Essentials subscribers - by filling out the form on this page.
FILL OUT THE FORM AND BEGIN WATCHING NOW
More about ChartSquad:
ChartSquad is a revolutionary digital solution that has leveraged technology and automation to simplify access to medical records for plaintiffs nationwide. In about two minutes, you can request records from any US based treatment provider and we do the rest! There are no membership fees and no contracts. It's a user-friendly on demand solution that will eliminate up to 90% of your on-desk time, lower your cost exposure, and help you close cases faster.
Learn more about ChartSquad here.