Fill Out The Form to Begin Watching!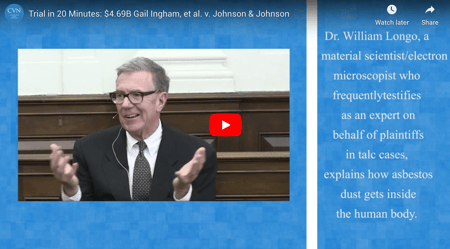 Crowned the most impressive plaintiff verdict CVN covered in 2018, Gail Ingham, et al. v. Johnson & Johnson, et al. demonstrated why Mark Lanier's fearsome reputation is warranted.
Lanier represented 22 women, who all took their claims to trial simultaneously, alleging that asbestos supposedly present in Johnson & Johnson's popular cosmetic talc products like Baby Powder and Shower to Shower caused them to develop ovarian cancer.
Talc-related verdicts reaching into the hundreds of millions had already made waves in previous cases, but none came close to the $4.69 billion that a St. Louis, Missouri jury returned after a six-week trial.
Here, CVN breaks down significant parts of the blockbuster trial into a single, curated 20-minute video clip.
Thanks to our partner, ChartSquad, you can access this curated clip for FREE - usually only available to CVN Essentials subscribers - by filling out the form on this page.
FILL OUT THE FORM AND BEGIN WATCHING NOW
More about ChartSquad:
ChartSquad is a revolutionary digital solution that has leveraged technology and automation to simplify access to medical records for plaintiffs nationwide. In about two minutes, you can request records from any US based treatment provider and we do the rest! There are no membership fees and no contracts. It's a user-friendly on demand solution that will eliminate up to 90% of your on-desk time, lower your cost exposure, and help you close cases faster.
Learn more about ChartSquad here.