Fill Out The Form to Begin Watching!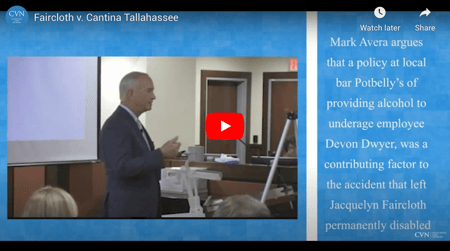 Jurors last year hit two Florida bars with a $30.8 million verdict for the devastating brain damage a woman suffered in a hit-and-run that followed a night of underage drinking.
The jury awarded the amount after finding Devon Dwyer's drunk driving caused him to hit Jacquelyn Faircloth on Tallahassee's West Pensacola Street in November 2014. Dwyer, then 20, had left Potbelly's, a bar near the Florida State University campus, moments before the crash, while Faircloth, then 18, had left Cantina 101, another area bar. Both had been drinking.
The collision left Faircloth with severe brain damage, unable to communicate verbally or care for herself. Dwyer, who fled the scene, was ultimately arrested and sentenced to two-and-a-half years in prison for the incident.
Here, CVN breaks down parts of the blockbuster trial into a single 20-minute video clip.
Thanks to our partner, ChartSquad, you can access this curated clip for FREE - usually only available to CVN Essentials subscribers - by filling out the form on this page.
FILL OUT THE FORM AND BEGIN WATCHING NOW
More about ChartSquad:
ChartSquad is a revolutionary digital solution that has leveraged technology and automation to simplify access to medical records for plaintiffs nationwide. In about two minutes, you can request records from any US based treatment provider and we do the rest! There are no membership fees and no contracts. It's a user-friendly on demand solution that will eliminate up to 90% of your on-desk time, lower your cost exposure, and help you close cases faster.
Learn more about ChartSquad here.