Fill Out The Form to Begin Watching!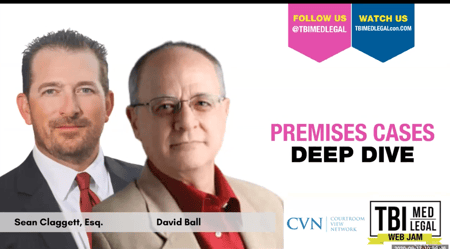 In September, CVN and TBI Med Legal presented a free webinar featuring heavyweight trial specialist Sean Claggett and legendary trial consultant Dr. David Ball. Both David and Sean analyzed real courtroom video from a slip-and-fall TBI case against Lowe's, which ended in a $16.4 million verdict.
This webinar offers users the valuable opportunity to learn firsthand from a plaintiff's attorney with a national reputation for taking difficult cases to verdicts far surpassing settlement offers and from one of the most respected trial consultants practicing today.
Sean curated numerous CVN video clips from key moments in the trial, and then he and Dr. Ball used the video to both show and tell participants how to more effectively present these difficult and often complex TBI cases to jurors with the greatest impact. There was also a lengthy and informative Q&A session.
Thanks to our partner ChartSquad, you can now watch the webinar on-demand by filling out the form on this page! This is usually only available live, or with a subscription to our Video Library.


FILL OUT THE FORM AND BEGIN WATCHING NOW
More about ChartSquad:
ChartSquad is a revolutionary digital solution that has leveraged technology and automation to simplify access to medical records for plaintiffs nationwide. In about two minutes, you can request records from any US based treatment provider and we do the rest! There are no membership fees and no contracts. It's a user-friendly on demand solution that will eliminate up to 90% of your on-desk time, lower your cost exposure, and help you close cases faster.
Learn more about ChartSquad here.