Fill Out The Form to Watch The Webinar For Free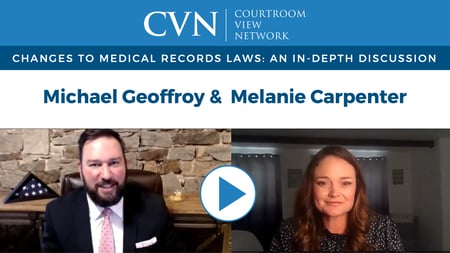 Medical records are critical to nearly every personal injury case. However, sweeping changes surrounding medical records laws - from a landmark federal court decision last year to recently proposed regulations - have left attorneys on uncertain ground when collecting their clients' records.
Veteran trial lawyer Michael Geoffroy, of MG Law, and Melanie Carpenter, a medical records laws expert and special counsel at ChartSquad, sat down to analyze the issues surrounding medical records legislation and their everyday impact on trial attorneys.
The pair discuss a range of topics, including:
*The landmark U.S. District Court decision in Ciox Healthcare LLC. v. Azar and its impact on medical records regulations.
*What to do if you run into a roadblock when requesting a client's medical records.
*How the 21st Century Cures Act and proposed regulations affecting HIPAA and HITECH promise to change the way lawyers acquire records.
And much more.
Now you can watch the hour-long deep-dive into this important topic for free, courtesy of our friends at ChartSquad.
Simply fill out the form to learn all you need to know on the changes surrounding medical records requests.
FILL OUT THE FORM AND BEGIN WATCHING NOW
More about ChartSquad:
ChartSquad is a revolutionary digital solution that has leveraged technology and automation to simplify access to medical records for plaintiffs nationwide. In about two minutes, you can request records from any US based treatment provider and we do the rest! There are no membership fees and no contracts. It's a user-friendly on demand solution that will eliminate up to 90% of your on-desk time, lower your cost exposure, and help you close cases faster.
Learn more about ChartSquad here.